What is The Pony Club?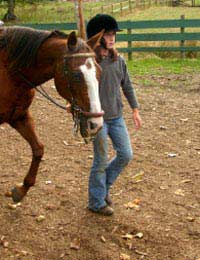 The Pony Club is a voluntary youth organisation that was set up for youngsters who want to start horse riding. Its representation in eighteen European countries and seventeen nations outside of Europe and membership of more than 100, 000 make it the world's largest association of horse riders. A lot of its members are volunteers on whom it relies. It became an independent charity in 1997.
Why Should I Join The Pony Club?
The Pony Club aims to get more youngsters involved in horse riding and horse-related sporting activities. Many riders who have found success on the British equestrian circuit were members of The Pony Club in their youth, and it is often a good starting point for taking your riding to the next level. They teach both horse riding and horse care, and make sure that members have the necessary character traits (including sportsmanship, self-discipline, dedication and self-belief) to achieve success in whatever form their riding takes in the future.
Who Can Join?
Any youngster who is interested in horse riding can join. In the UK alone, there are around 40,000 members, who hold either a branch or centre membership. There are 349 Branches in the UK, and 260 Centres. Members can expect ample support and training, as well as regular events and competitions.
Branch membership is designed for members who own their own horse, or can regularly access a horse. This is important as horses need to be taken to events and competitions on a regular basis . You can only be a member of one Branch at any given time.
Centre membership is designed for members who don't own their own horse, or don't have regular access to a horse at a Pony Club Linked Riding Centre. However, Centre membership is also open to those who own a horse that is kept at a Pony Club Linked Riding Centre if they have no means of getting the horse to events and competitions.
If you go on to own your own horse and have the means to transport it to events, you can apply for Branch membership, as well as the required Centre membership. You are obliged to represent your Branch at Pony Club competitions.
Associate membership is open to those aged over twenty-one who have previously been Branch or Centre members.
Membership fees are set out in the Pony Club Year Book. Annual subscriptions should be paid on January 1st. If it hasn't been paid by the end of January, membership is usually automatically ended. Both Branch and Centre membership lasts until the end of the Pony Club Year in which you turn twenty-one (or twenty-five for Associate membership).
Becoming a member of The Pony Club is essential for aspiring horse riders. It offers vital support and training that has aided the skills of most successful British equestrian riders. Joining The Pony Club is one of the best ways to hone your riding abilities , particularly if you're intending to enter competitions on a regular basis.
You might also like...