Types of Riding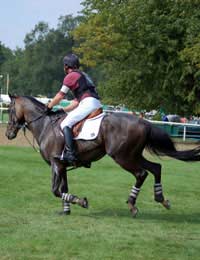 There are several different types of riding, including English, Western, Show Jumping and Dressage. Both English and Western riding styles have their own type of saddle. These are recommended for safety and comfort purposes.
English riding
Contrary to the name, English riding is actually popular worldwide. It is a broad strand of riding that includes several different riding disciplines including Show Jumping, dressage
In terms of equipment, English riding includes an English saddle, which differs from the Western saddle in that it doesn't have the same deep seat, high cantle and saddle horn. It also doesn't have the same 'poleys' as the Australian Stock Saddle. English bridles also come in a range of styles but most of them have a cavesson noseband, closed reins that are buckled together at each end which stop them falling if you lose your position in the seat.
For English riding, traditional and formal clothing is preferred. Breeches and jodhpurs, a shirt that has a tie, a riding hat or cap, jacket and boots.
Show Jumping
Show Jumpers is a riding competition involving fences. Riders have to negotiate between fifteen and twenty fences as part of a specially designed course. Riders score points depending on the length of time that it takes for them to complete the course, and how many obstacles they can clear without knocking bars off. Faults are awarded for knocking down bars, a horse refusing to jump or going beyond the time limit. The idea is that get round the course without clocking up any faults. Show Jumping is a discipline in the Olympic Games.
Dressage
The term 'dressage' is related to the French term for training. It refers to training and competition that highlights the horse's ability to compete in a calm and obedient manner based on subtle instructions from the rider. There will generally be several changes in speed and directions as part of the routine. A successful dressage performance involves high levels of balance, rhythm and accuracy, all of which you are judged on. It is a discipline in the Olympic Games.
Classical dressage
Classical dressage is a form of dressage that was performed in the past. It is similar to regular dressage, but different horses are often used and the more complex haute ecole ('high school') skills are judged on. Today, it is mostly performed in exhibitions instead of competitions.
Eventing
Eventing involves dressage, Show Jumping and Cross-country Jumping and usually lasts for three days (one event per day). It is a discipline in the Olympic Games.
There are several different types of riding, and most riders will want to explore a variety of these, even if they end up specialising in one type in the long term. Each of the different types of riding require different skills, such as balance and accuracy, which is one of the reasons why many riders choose to specialise. The other main reason is the ability to fully concentrate on a particular riding discipline, which ultimately helps riders progress at a faster rate than if they are splitting their time between two or more disciplines.
You might also like...
I'm just starting out and I'm not sure what style I should do but I'm leaning towards dressage!!!
Hello
- 14-Aug-20 @ 8:40 PM
There are many styles of riding including english and western however my absolute definite favourite is bearback this is a style where you ride without a sale for reins.
prof.LC
- 2-Jun-19 @ 6:33 PM
Horse riding is a great sport or/and fun activity for pretty much any age.
prof.LC
- 2-Jun-19 @ 6:29 PM
wata bout bareback?!? thts the bEsT i <3 it!!! down w/ saddles up w/ fur!!! woooooh!!! goooooo naturalness!!! oh yah oh yah its ur bday uhuh (i sound lyk a cheerleedr, tho im NOT) say i rode 100 times, i wud ride w./ a saddle probly 10% of the time. saddles hurtmy butt!!! they r evil. tho i prefer western if i have to have one. western jumping is kewl. wat a rush. how improper. :D have fun riding!
horseluvr
- 23-Dec-11 @ 2:01 AM