What is Hacking?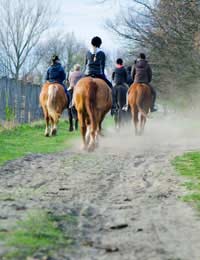 Hacking generally refers to the casual riding of a horse at a normal pace (without cantering or galloping for example). This makes it ideally suited to group outings as even the less experienced riders can easily keep up with the rest of the group. Many of the people who own a horse do so so that they can go hacking. Hacking can take place in the countryside, on paths and bridleways, and on the roads.
Organised Hacking
Hacks are often organised by riding schools and equestrianism centres. They can take place in the countryside or on the roads. Safety is taken extremely seriously, which is why most organised hacks require you to be a competent rider to take part, and may ask you to demonstrate a certain level of skill before they will allow you to join in. If this is the case for your nearest venue, don't be disheartened. Some centres offer training hacks, which give the chance to learn as you go. As you might expect, these are perfect if you're not an experienced horse rider.
Some centres only offer hacks to riders who use the school or centre on a regular basis. Different schools and centres have different policies, so it's a good idea to check with them beforehand to see what theirs is.
Most hacks last for one or two hours, depending on the length of the session. Prices vary, but a one-hour hack costs around £25, a ninety minute hack costs around £30, and a two-hour hack costs around £40. Be aware that some centres may charge more or less, so this is only a rough guide. Check with the centre in question for an accurate current price.
Trekking
Trekking is also suitable for beginners, as the pace is typically slow. It almost always takes place in scenic countryside. Because the pace is so slow, it gives you a good opportunity to take in your surroundings as you go.
Walkabouts
Many riders aren't confident about riding a horse outside of riding lessons, even if they've had lots of practice. If you're nervous about riding, a walkabout might be a better option for you. This generally involves you riding the horse behind an instructor (who often leads your horse on foot). It's an ideal way to get used to riding, particularly if you're not used to it or not confident. It's also a good option for getting small children (aged four and above) used to riding, as they will be able to ride their own horse, but they don't have to worry about controlling both the horse and the situation.
Hacking is one of the most common types of horse riding, and is relatively easy to get the hang of if you know how to ride a horse, as you only need to operate at a regular pace. If you're not a confident horse rider, a training hack is probably the best option, as it gives you the chance to learn while you're going. Alternatively, trekking or walkabouts may be better for you, but much of that will depend on your level of ability and confidence.
You might also like...