Riding Clothes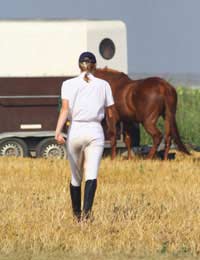 Having the right clothes is an important part of riding. Many new riders are often concerned about the cost of riding clothes but they don't need to be expensive if you're only going to be riding on a casual basis. If you plan to enter horse riding events and competitions (for example, if you're a member of The Pony Club), this is when riding clothes tend to get a lot more expensive. This article focuses mainly on the clothes needed for everyday riding.
Helmets
There are lots of different types and styles of helmets on the market, and making the right choice can often feel overwhelming. The best option will usually be a helmet that feels comfortable to wear and fits the type of riding that you'll be doing.
For safety reasons, this is probably the most important item of clothing that you'll need to buy, so don't scrimp on quality. You might want to buy the rest of your riding clothing second hand to save money, but helmets should always be brand new to make sure that they offer as much protection as possible.
Shake your head around whilst trying on a helmet so that you're sure of how well it really fits. A well-fitting helmet won't move around too much while you're doing this, but a badly fitting one will. An adjustable harness is another thing to look out for.
Base Layers
For standard riding, a normal t-shirt or sweatshirt should be fine. Many riders like to wear sleeveless vests so that they can layer their outfits for added warmth when the weather gets cooler. Sleeveless vests are also less restrictive on your arms. Brighter colours are a good idea in the winter months, when it can quickly get darker, but these won't necessarily be much use in pitch black (reflective jackets are the best option in this scenario).
Trousers
A pair of casual but stretchy sweatpants are fine for everyday riding, but they won't necessarily offer much comfort. You can buy riding tights that have built-in padding and support on the knee and bottom. Riding chaps can also offer support and grip.
For more serious riding, jodhpurs or breeches are preferable.
Underwear
Tack shops sell underwear (particularly bras) that offer adequate support for riding. Alternatively, an underwired sports bra will provide better support than a 'normal' bra.
Boots
Boots are probably the second most important item of riding clothing after helmets. They don't have to be actual riding boots, but a sturdy pair is a good bet. Hiking boots are best avoided as the tread can be too thick, and they are prone to getting caught in the stirrups if you take a fall. Hack stores usually sell fairly cheap leather boots that can be used for riding.
For everyday riding, you don't need to spend a fortune on getting kitted out. A lot of the time, you can simply wear the kind of casual clothes (t-shirts, sweatshirts, stretch leggings) that many people wear around the house. If you're going to be entering horse riding competitions, you'll need to spend money buying the right kind of clothing, and this can easily become expensive.
You might also like...