Horse Grooming Essentials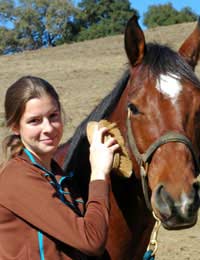 Grooming is one of the most important elements of horse ownership. Some people love it, others just put up with it. But either way, it is important that you take proper care of your horse with a good grooming regime.
So what do you need to know – and what do you need to buy?
Essential kit
There is a range of equipment that you will need to groom your horse properly. At the heart of your kit is a series of brushes.
The dandy brush - is the most common; this is a stiff brush used to remove dried dirt. It is used on areas that are less sensitive.
A body brush - you should also have a body brush. This is softer, and is used to remove lighter dirt like grease from the coat.
Mane and tail brush - you might also have a mane and tail brush which, as the name suggests, is used to remove dirt from the mane and tail.
A metal and a rubber curry comb - is used to remove dirt and dust from the brushes, and is made of serrated metal. You should also have a rubber curry, which is used to remove dirt from the horse.
You should also have a hoof pick. This is used to remove stones or other items from the hooves. Alongside this you should have a sweat scraper, which is used to remove sweat or water. The sweat scraper has rubber edges, similar to a car scraper. A sponge will also come in handy for cleaning the eyes and nose.
Finally, you may wish to invest in kit box. Dedicated boxes are available for this, but people often also use toolboxes or simply canvas bags.
Essential knowledge
There are a few pieces of knowledge that you should have before you begin grooming.
1.
Perhaps most important thing to do is make sure your horse should be securely tied at all times. You might do this with a halter, or with a cross-tie.
2.
You should always start at the top of the neck when grooming your horse. Then, pick a side and work all the way down the body – and then do the same on the other side.
3.
Begin with the rubber curry. It is very important that this brush is not used on the legs or other sensitive areas. It is even more important that you don't get confused and use the metal curry on your horse!
4.
After this, move onto the dandy brush. This should be used in a flicking motion. Then comes the body brush, which is used to smooth the coat after it has been cleaned with the curry and the dandy.
5.
A mane comb can then be used, followed by the dandy brush again to brush through the tail. After that, move to the feet. It is very, very important that you are properly taught how to deal with a horse's feet by an instructor before you do this for the first time. Remember to 'warn' the horse that you are about to pick up its foot, for example by gradually stroking its leg down towards its foot.
Throughout the process, you should remember that a horse is a sensitive animal. You should make sure that you are using suitable equipment, and that you are using that equipment properly. If you are in any doubt, ask an expert to show you.
You might also like...