Getting a Permit and License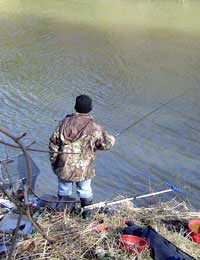 If you're a keen angler you need to look into getting both a fishing rod license and a fishing permit. Anyone aged over twelve who fishes for salmon, trout, freshwater fish or eels is legally obliged to a fishing rod license, and you will be prosecuted if you cannot present one if requested. You can also be fined up to £2,500. Read on for more information on obtaining them.
Where do I Get a Fishing Rod License?
A fishing rod license can be obtained very easily. They are available at most Post Offices, but it's still best to check with your local branch beforehand to make sure. You can also get them from the Environment Agency (through their website or over the phone). Concessions are available for children, senior citizens and disabled people, but the latter two groups cannot buy a fishing rod license through the Environment Agency website (due to the need to confirm eligibility for these concessions).
How Much Does it Cost?
Prices are split into two categories: Non-migratory trout and coarse, and salmon and trout.
For Non-migratory trout and coarse rod licenses, a full season license costs £24.50 (for adults), and a junior license (for those aged 12-16) is £5. If you're only going to be fishing on a short-term or one-off basis (rather than throughout the year), an 8-day or 1-day license might be a better option. These cost £8.75 and £3.25 respectively.
Salmon and trout rod licenses are a lot more expensive. A full season license costs £66.50, and a junior license costs £33.25. An 8-day license is £21, and the 1-day equivalent is £7.
The money raised from rod licenses is used to contribute to the Environment Agency's funding of working fisheries.
Is There an Expiry Date?
All rod licenses expire in March every year, regardless of whether they are the full or concessionary type. At this point, they must be renewed to avoid a fine or possible prosecution.
Can I Fish Straight Away?
As long as the start date and time that you entered on your application form is prior to the date and time that you will be going fishing, you can start fishing straight away. They can't be backdated though. If you choose to go fishing before your license arrives in the post, you'll need to have noted your license number, and have some proof of identity on you.
Where Do I Get a Fishing Permit?
Sometimes, you may also need to have a fishing permit, if the area in which you intend to fish is owned by someone else. Angling clubs, in particular, often own a particular stretch of water so that their members are free to use it to fish during club outings. Fishing permits are sometimes called day tickets, and can be issued by an angling club to its members. They can also be issued by fishery owners.
They aren't always required for regular anglers though, as some places are free to fish in, but even if this is the case, you'll still need a rod license. You can also get permits from Tourist Information Offices, who should be able to tell you whether the area in which you intend to fish requires a permit.
How Much Does it Cost?
Day permits are relatively inexpensive, but night permits cost more, as there are less available. You can usually get a day permit for less than £10, but a night permit could set you back £20 or more.
Another important thing to remember is that permits require a photograph.
Is There an Expiry Date?
Permits expire after one year, and must be renewed at this point.
Getting a fishing rod license is vital - even if you only intend to go fishing once or twice. You don't want to run the risk of being caught without one, as it can result in a fine or even prosecution. Fishing permits are more complicated, as they aren't always needed. It's best to check it out beforehand to avoid any nasty surprises!
You might also like...