Respecting The Environment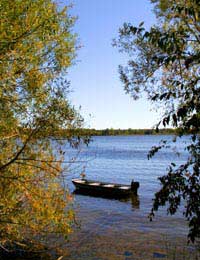 As anglers spend a lot of time in close proximity to nature it's important to respect the environment around you while you're fishing. Lots of green areas are being spoilt or destroyed every year because of people who abuse them, but sticking to a few simple rules of etiquette can stop this becoming more of a problem than it already is.
Litter
This is one of the most basic rules of environmental etiquette. Many anglers bring a packed lunch to see them through the day while they're fishing, and it's essential to put your rubbish in the bin, rather than discard it. If you're nowhere near a bin, slip it in your pocket or bag until you find one. Animals, and even other humans, can easily injure themselves or accidentally swallow things that are left lying around. Drinks cans are major culprits. Discarded fishing tackle can also cause harm to unsuspecting wildlife.
Aside from the obvious dangers, it's now illegal to drop litter in many public places, and doing so can result in a fine if you're caught.
Environmental Damage and Pollution
Sometimes, chemicals will be dumped into local fishing waters by unethical companies. These are often poisonous, and will have a devastating effect on the fish population, as well as other local wildlife. If you see any evidence of damage or pollution, you should report it immediately, so that the relevant authorities can sort it out and avoid any further catastrophes.
Boating Trips
If you're going to be fishing from a boat, make sure that sensitive spots aren't disrupted. Like all forms of wildlife, fish can be easily scared, and this can affect the quality of your fishing trip. It can also have a long-term impact on the food chain, as the plants and insects that are normally eaten by fish can start to multiply.
Saving Water
We're always being told the importance of saving water, but did you know that the water we waste has an effect on fish? Low water levels are a big problem at the moment, so it really is essential to save every last drop of water in your home and elsewhere. If you see fish coming to the surface and gulping air, this can indicate low water levels, and should be reported to the Environment Agency as soon as possible. Other signs to look out for include fish swimming slowly in large groups, fish coming to the surface and not moving off for some time, and fish floating on the surface of the water.
Respecting the environment is a key part of angling, and most anglers stick to the environmental etiquette, even if its rules aren't necessarily explicitly discussed. Angling clubs will generally mention it to new anglers, but most of the etiquette is plain common sense. Even so, they can help to protect local wildlife, especially fish, and this can only have a positive effect on your angling experiences. After all, less fish in the vicinity means less enjoyment for you!
You might also like...