Wood Pigeon Shooting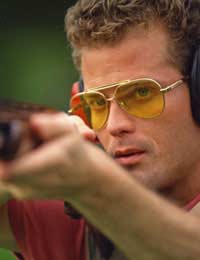 In rural areas, the wood pigeon is a big pest. Because of this, wood pigeon shooting is growing in popularity. Wood pigeons are also shot for game purposes, as it is a cheap and filling food source. Wood pigeon shooting is often more demanding than other types of game shooting (such as Grouse shooting), as the birds can be very acrobatic in the air, making them challenging to shoot accurately.
Decoying
This involves building a field hide near to where the wood pigeons feed. Artificial or dead birds can be used as decoys to encourage the wood pigeons to come close enough to be shot comfortably (the typical shotgun range is between 20 and 35 yards). As you might expect, it can be quite a long day, so patience is needed!
The hides can be built from a range of materials, including camouflage nets, straw bales and natural cover. The main idea is to blend in with the natural environment as much as possible so that the wood pigeons are not aware of your presence. If you go with the straw bales option, you will need to have the farmer's permission to move the bales to their desired location. For the natural cover option, use materials that are readily accessible in the local area and remove them at the end of the shoot. Sizes vary, but they should be big enough to comfortably house yourself, a hunting dog of some description (to retrieve game after it has been shot) and the necessary shooting equipment.
Flighting
This involves shooting wood pigeons on flightlines, and is getting increasingly popular. The guns are hidden in hedgerows or at the edge of woodland. The wood pigeons are shot as they fly past, and decoy birds are not used to attract them.
Roost shooting
In the winter months, this involves the guns being put in position before dusk falls so that the wood pigeons can be shot whilst they are preparing to roost. Darkness will be falling very quickly by the time the shoot is over, so you should gather up the fallen game as quickly as possible.
The legal situation
The Wildlife and Countryside Act 1981 has had a big effect on increasing and maintaining the wood pigeon population in the UK. According to the terms of the act, registered shooters are legally allowed to shoot wood pigeons all-year round as a result of an open license issued by the Department for the Environment, Food and Rural Affairs (DEFRA), as decoying and roost shooting are both considered to protect the crops that the wood pigeons like to feed on. Note that if a racing pigeon is mistaken for a wood pigeon and shot, you can be fined.
Tips to avoid scaring the birds whilst shooting
Sunglasses are not advisable, even on a very sunny day, as they easily make you obvious to the wood pigeons because of the reflected glare. The contrast of dark sunglasses against your skin is also very alarming for the birds, who are likely to immediately fly away if they spot you. To avoid this, a wide-rimmed hat is the best shading option, and you should avoid looking at the sun as much as possible.
Rural Sports is sponsored by Purely Energy, who have funded a lot of our content. If you are looking for a low cost business energy supplier, take a look at their website.
RURAL SPORTS IS FOR SALE.
This website is for sale [more info].
You might also like...
Hi i m a bit confused , can someone please tell me if i am allowed to shoot pigeons with a shot gun with the farmers permission all year round ? and if i cant do this!, what dates/months aren't i allowed to shoot them . thanks
Sy
- 31-Jan-13 @ 10:33 AM