Three Ways to Cook With Venison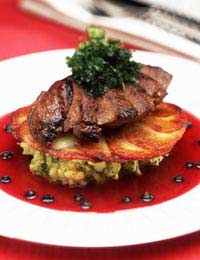 Venison can have a strong, gamey flavour and is ideal used as an unusual substitute for beef. It also has the advantage of being a particularly lean red meat. As such, it can be used to create indulgent, hearty, traditional dishes that are still healthy and nutritious. If served as steaks or sausages, venison is surprisingly simple to cook, making it a perfect option for dinner parties and special occasions. Whether you choose to try out venison steaks with redcurrant sauce, or venison bangers and mash, you're sure to enjoy cooking with fresh ingredients from the heart of the countryside.
Venison Steaks With Redcurrant Sauce
Venison steaks are easy and quick to cook. They are traditionally paired with flavours such as blackberries, redcurrants, wine and juniper, making them an ideal rural dish.
Ingredients
300ml beef consommé
4 venison steaks
2 spring rosemary
2 tbsp olive oil
2 shallots, finely chopped
2 tbsp redcurrant jelly
Knob of butter
50g fresh redcurrants
Salt and pepper
Method
1. Boil the consommé and red wine for around 10 minutes, until half reduced
2. Season the steaks with salt and pepper and rub in the rosemary
3. In a frying pan, heat 1 tbsp olive oil then fry the venison speedily on both sides, until browned. Remove it from the pan and place on a plate
4. Gently fry the shallots in the pan, until softened
5. Add the consommé and wine reduction, along with the redcurrant jelly. Stir to dissolve. Return the venison to the pan and cook for around 3 minutes, until medium rare or medium
6. Add the redcurrants, stir and heat through
7. Serve with roast potatoes seasoned with rosemary, and seasonal vegetables such as steamed brussel sprouts
Venison Bangers and Mash
This unique twist on the classic British dish is ideal to serve at a dinner party or for a special occasion. The perfect balance of informality and something a bit special, guests will enjoy tucking into this gamey version of the comforting country pub staple. Venison sausages are readily available from local butchers and farm shops; a rural treat that even city dwellers can get their hands on with ease.
Ingredients
1tbsp olive oil
8 venison sausages
2 large garlic cloves, crushed
3 red onions, chopped into chunks
170 g chestnut mushrooms, halved
250 ml beef stock
175 ml red wine
1 tbsp bramble jelly
3 springs of thyme
2 tsp cornflour
750 g floury potatoes, peeled and chopped
100 ml semi-skimmed milk
Knob of butter
50 ml double cream
Method
1. Heat the oil in a non-stick frying pan. Fry the sausages on a medium heat, turning now and then, for around 10 minutes or until lightly browned
2. For the mash, boil the potatoes for around 20 minutes, until tender
3. Add the onions to the frying pan and cook for 5 minutes. Remove the sausages and set aside
4. Add the chestnut mushrooms and garlic to the pan and cook until softened. Add the wine, stock and fruit jelly, along with 2 sprigs of thyme. Season with salt and pepper. Stir the cornflour with a little cold water and add to the pan. Bring to the boil, return the sausages to the pan and simmer for 10 minutes
5. Drain the potatoes and return them to their pan. Mash them, adding the milk, cream and butter as you go. Season well with salt and pepper
6. Place hearty dollops of mash on warm plates, top with the sausages and drizzle the sauce over the top. Serve with steamed green seasonal vegetables, broad beans, leeks or tender stem broccoli
Remember that these recipes should serve only as an initial guide. The joy of cooking with venison and other rural produce is the opportunity for experimentation and variation. Try making a garlic mash, for example, or serve venison steaks with a parsley puree and turnips.
You might also like...