Seasonal Vegetables to Serve With Game and Fish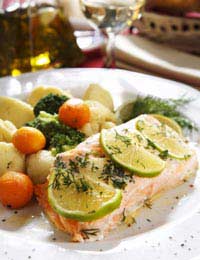 Fish and game are at their best when cooked simply and traditionally. A feast of 'meat and two veg' incorporating fresh, local and seasonal ingredients is a rural food lover's Holy Grail. It is the fish or game that should be showcased and take centre stage here, perfectly accompanied by well-selected seasonal vegetables. Whether roasted, fried, grilled or steamed, be sure to cook your vegetables carefully and in a basic fashion, so as to avoid overwhelming the dish. Use spices and herbs sparingly, taste-testing as you go. Seasonal vegetables, fresh from the plot, boast impressive natural flavours and textures which you should aim to retain and enhance during the cooking process. So which British vegetables should you opt for at different times of year? Take a look at the vegetable calendar below to find the perfect seasonal pairings for your fish and game dishes.
January
January is the month for earthy, hardy winter veg. Roast parsnips and swede, gently boil some kale or steam a generous helping of leek or purple sprouting broccoli.
February and March
In February, cabbages and carrots come into their own. Sauté some shredded cabbage with a touch of minced garlic and chopped toasted almonds or roast carrot sticks with a few teaspoons of honey and a dash of olive oil. Kale, leeks, parsnips, purple spouting broccoli and swede are all still in season too.
April
Asparagus and new potatoes are ideal accompaniments to game and fish, and are at their best in April. Roast asparagus stems sprinkled with sea salt. New potatoes are delicious when lightly boiled but can be sliced in half and roasted with lashings of olive oil, salt, pepper and rosemary for a richer dish alongside venison or rabbit.
May
Spring greens, wild rocket and watercress are all impressive in May. To accompany grilled fish, create a simple, light salad, dressed with a touch of balsamic vinegar. Peas and broad beans are also delicious in May. Steam them gently and serve al dente.
June
Berries and summer fruits take the glory in June. If you're looking for a traditional dessert to follow your game or fish dish, look no further than the humble crumble. Make use of whichever berries you favour, be that blackcurrants, cherries, gooseberries or loganberries. Pick your own for a true rural experience.
July
French beans and runner beans taste just right in July. Grill thin lengths of courgettes for a timely treat. Look to fennel and shallots to add seasonal flavour. Tomatoes are also tasty in July; roast them on the vine for an attractive accompaniment to fish and game.
August and September
August and September are ideal months for fruit lovers. Look to apples, pears, raspberries and others for sweet ways to wrap up a feast of game and fish. Wild mushrooms are delicious at this time too, sauté them in butter with garlic and pepper or add them to a rabbit stew.
October
Brussel sprouts and broccoli are winners in October. Steam them both, or roast brussel sprouts with lemon and olive oil for a deeper flavour that is ideal alongside game dishes. Broccoli is also delicious stir fried with garlic and soy sauce as an accompaniment to a light meal of fish.
November and December
Winter sees the return of earthy flavours and textures. Serve up a traditional side dish of cauliflower cheese or roast chunks of parsnip, pumpkin and turnip with a few springs of thyme.
Whilst seasonal vegetables complement the fish or game being served, they can be just as rewarding to cook, and delicious too. Be sure to experiment with different varieties and try out a range of cooking methods. Soon, you will have a strong repertoire of vegetable accompaniments up your sleeve and your fish and game dishes will be delicious and different all year round. Working with seasonal vegetables helps to keep both your cooking and dining experiences fresh and new.
You might also like...