Shooting Clubs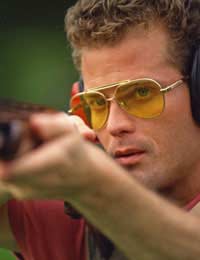 If you're looking to improve your shooting skills try joining a shooting club. There are approximately 1000 shooting clubs throughout the UK, many of which offer the chance to practice both indoor and outdoor target shooting.
Target Shooting
According to the 1997 Firearms (Amendment) Act, you need to join a shooting club that has been approved by the Home Office if you want to own a rifle or muzzle-loading handgun to use for target shooting. The Act also specifies that the club in question needs to be named on your firearm certificate. If you're a member of more than one shooting club, you're only obliged to name the one that you have the most contact with. If your club isn't approved by the Home Office, you can't legally own firearms and ammunition and use them in the club's facilities if you don't have your own firearm certificate.
If a shooting club has been approved by the Home Office, a high-ranking member of the club (often the club secretary) can be issued a free firearm certificate, which lets him or her buy guns and ammunition for club members to use. This is a big bonus, as individual club members aren't allowed to buy or get hold of their guns and ammunition unless they have their own firearm certificate.
Membership Requirements
Joining a shooting club isn't just a matter of turning up and filling in a membership form. Although beginners are allowed to join, it's preferable if you already have some previous experience of shooting, and are a member of a recognised shooting organisation like the British Association of Shooting and Conservation (BASC), the Deer Hunting Society (BDS), the Clay Pigeon Shooting Association (CPSA), the National Rifle Association (NRA) and the Muzzle Loaders Association of Great Britain (MLAGB) .
All shooting clubs that have been approved by the Home Office usually have specific membership requirements that new members must meet before they can join. This includes being sponsored by one or more existing club members. Before you're granted full membership, you will usually have to go through a 'trial period' of around three months (sometimes longer than this, as it depends on the club in question). As part of the application process and 'trial period', you'll need to let the club know if you've ever tried to apply for a firearm or shotgun certificate and been rejected.
Police are very aware of the possibility of people joining a club so that they can own a firearm, and keep in contact with Home Office approved clubs. For this reason, clubs keep track of how often their members go to the club and use the shooting facilities. If a member hasn't shot at the club in the last year, the police will be told of this, and will investigate accordingly. This is often significant, as most club members join because they want to make frequent use of the club and its facilities.
Joining a shooting club can be a great way to be able to use a firearm without the need to get your own, but there is some membership criteria that you need to satisfy before you can be given full member status.
You might also like...