Buying A Mountain Bike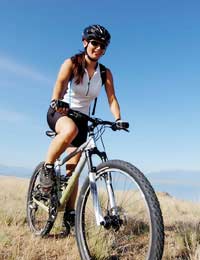 When it comes to buying a mountain bike, there are certain features to look for. The best type of mountain bike is robust enough to cope with all-terrain mountain biking. Many mountain biking enthusiasts prefer the full suspension mountain bike, but it's worth bearing in mind that these can be slightly heavier (which can impact on how fast you can climb) and they are also more expensive. However, they are usually faster on downhill trails and drop offs, and offer greater control.
Things to Look for
Among your considerations should be:
Seating: Comfort is especially important if you are tackling long rides. It's essential to test this before you part with your money to make sure that the seat will be comfortable enough.
Handlebars: In terms of width, they should be around as wide as your shoulders so that you can ride without having to bend your arms too much. Most bikes have the option to adjust the height to suit yourself.
Is a Full Suspension Mountain Bike Always the Best Option?
There are some circumstances in which a full suspension mountain bike is not always the best option. If you are interested in cross country mountain bike racing, a full suspension mountain bike can hurt your chances of winning, especially if there are climbs.
If you choose to buy a full suspension mountain bike, it pays to buy the best that you can afford. The average full suspension mountain bike costs around £800, and anything below this is likely to be inferior. The more expensive full suspension mountain bikes are lighter and stronger than their cheaper counterparts.
What is the Best Option for Mountain Biking on a Budget?
If you are restricted to mountain biking on a budget, a hardtail (without rear suspension) bike is a good option. These tend to be cheaper than full suspension mountain bikes. They will suit most casual mountain bikers.
Other Types of Mountain Biking
If you want to tackle downhill riding, you will need a specialised bike that has tailored suspension parts at both the front and back, a light frame, and broad, knobbled tyres.
For Four Cross riding, hardtail bikes are the norm as they are lighter and easier to control. For cross country and marathon riding, bikes often feature both front and rear suspension, although hardtail bikes are also frequently used to tackle certain trails and conditions. Frames tend to be made from aluminium, titanium or lightweight carbon fibre. Tyres are generally light and knobbled.
For dirt jumping, frames are smaller than the norm for most other types of mountain bikes.
Where to Buy a Mountain Bike
A specialist cycling shop is often the best bet for buying a mountain bike. There will be knowledgeable staff on hand to offer advice, which is useful for beginners who are not completely familiar with the type of mountain bike that will best suit their needs.
Don't buy online, as you will not get the chance to test the bike's features before you buy.
You might also like...