Mountain Biking Holidays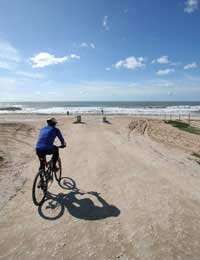 Booking yourself on an organised mountain biking holiday is an ideal way to take part in mountain biking while getting away from it all on a break. An organised trip also avoids the need to choose and plan your own route, which can be challenging if you are not familiar with the area that you are staying in. Mountain biking holidays range from weekend breaks to much longer trips. Unlike other types of holiday, they are not This article offers advice on taking mountain biking holidays in the UK.
What is Involved?
As you might expect, mountain biking holidays involve lots of cycling. Because of this, some mountain biking holidays are best suited to mountain bike enthusiasts, as beginners may find the going a little too tough. There are mountain biking holidays that are suitable for novice riders too though, so it's worth looking around to see which companies are offering these.
In most cases, you will be taken out in groups (depending on how many people have signed up for that particular holiday) and supervised by a trained instructor. If the numbers are low, it may even be a one-on-one trip, but group trips tend to be the norm. Unlike road cycling, it mostly takes place off-road on much more challenging rough terrain. Generally, you will be cycling on all or most days of the holiday, although this will vary from holiday to holiday. Accommodation is often included as part of the holiday package, although this will not always be the case.
Where Can you Go?
For mountain biking holidays in the UK, the Lake District is a popular destination due to its abundance of rocky and hilly areas. The Lake District came out on top in a poll in 'What Mountain Bike' magazine, whose readers voted it the best UK destination for mountain biking. You usually won't have to bike through mud, which makes it a good place for climbing and drop offs. Many holiday companies that specialise in cycling holidays organise trips there.
Another popular destination for mountain biking is the Pennines. This is another area full of challenging hills.
If you prefer to bike over open moorland and through forests and mountains, the Scottish mountains of Cairngorm are a perfect mountain biking destination.
There a wide range of different locations across the UK for mountain biking holidays though, so you are not restricted to just a few places.
How Much Does it Cost?
Mountain bike holidays are not particularly cheap. The average price is around £600 per trip, although it may cost more or less in certain cases.
Do I Need to Take my Own Mountain Bike and Equipment?
In most cases, you will be able to hire a mountain bike (either of the hardtail or full suspension variety) to use on the holiday. This will usually be for an additional fee, and is not always included as part of the holiday package. Many riders prefer to take their own mountain bike and equipment though, as they feel more comfortable doing so.
RURAL SPORTS IS FOR SALE.
This website is for sale [more info].
You might also like...