Mountain Bike Racing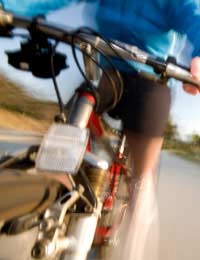 Mountain bike racing has only officially been recognised as a sport in its own since the 1990s. Fitness is an important component of many types of mountain bike racing. It is split into several sub-categories, including downhill mountain bike racing, cross country biking, four cross mountain bike racing and marathon mountain bike racing. This article discusses these types of mountain bike racing.
Cross Country Biking
Non-professional cross country biking is usually held on a circuit of between 3 and 5 miles. The type of terrain can vary a lot. For professional cross country biking races, the distance covered is usually around 30 miles, so fitness plays a much bigger role in the outcome of the race.
Downhill Mountain Biking
Downhill mountain bike racing usually takes the form of a time trial. Instead of a massed start, competitors begin their race at different intervals. The interval between competitors setting off can range from thirty seconds to several minutes. As the races take place on downhill terrain, it is usually quicker than cross country mountain biking, and rough terrain can make it more physical. Because of this, the bikes need to be specialised in terms of the suspension and brake discs to cope with the often difficult conditions.
Four Cross Mountain Biking
Also known as mountain cross biking (although they do differ slightly), this form of mountain biking has similarities with BMX racing. It involves four competitors racing against each other on the same course. Their times for completing the course are used to determine who goes through – the top half of the field progress through to the knock-out rounds.
In mountain cross biking, each rider has three heats against three fellow competitors with points allocated according to positions in those heats, and only half will go through to the knock-out stages. For amateur mountain bike riders, mountain cross biking is the norm, but professional mountain biker riders will usually have to follow the four cross biking format.
Marathon Mountain Biking
Fitness plays a big part in marathon mountain biking. The typical distance covered is around 50 miles, although it may be more or less than this. In most cases, there will be a massed start in which all of the competitors start together (similar to a running marathon) and the winner is the first rider over the finish point.
Enduro Mountain Biking
This is a fairly new form of mountain bike racing. They last for much longer than most -other mountain bike races, usually either twelve or twenty-fours. They are often team races, with only one rider from each team on the course at any one time. In the team races, there are often fun and intermediate subcategories within the team categories. The main aim of enduro mountain bike racing is to complete more laps of the course than the other competitors, rather than finishing the course before them. This type of mountain bike racing tends to take place at festivals and exhibition events, whereas the other types often take place in professional championships.
You might also like...