What is Zorbing?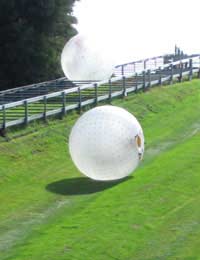 When thinking of sports that can be enjoyed in the countryside, it is usually the traditional ones that spring to mind. Fishing, rambling and horse riding are a few firm rural favourites. However, over the past few years, the countryside has become home to an increasing number of extreme or unusual sports. Zorbing, also known as sphering, orbing and globe-riding, is certainly one of these.
What Is Zorbing?
Zorbing involves rolling downhill, usually on a gentle slope, in a large transparent sphere. The zorb resembles a human-sized version of the classic hard plastic hamster ball but is made of a more flexible material for safety and comfort. In the countryside, the sport will usually take place on hillsides but from time to time ramps are constructed in flatter areas. Before booking a sphering experience, it is important to know that here are two main types of zorbing; harnessed zorbing and non-harnessed zorbing. Potential riders should think carefully about which method would most appeal to them. Harnessed spheres are created for two riders. The pair are strapped into the orb, facing each other and roll head over heels at some pace. Non-harnessed zorbing can be carried out alone, in a pair or in a group of three. In these orbs, the rider or riders are able to move freely within the sphere and do not roll head over heels as with the harnessed spheres. In the case of hydro-zorbing, a few buckets of water are added into the mix, rendering the unharnessed ride slippery and even more extreme.
Be Prepared
Potential riders should be aware that zorbing is affected by wind speed and direction and, for safety reasons, rides sometimes need to be cancelled at short notice. To avoid disappointment, always call the zorbing centre on the morning of your trip. Clothing is also of some importance when zorbing. Comfortable, non-restrictive everyday clothing can be worn but shoulders must be covered. Trousers or shorts are advised and socks must be worn. Riders who opt for hydro-zorbing are guaranteed to get very wet, so a change of clothes is highly recommended.
Is Zorbing For Me?
Zorbing is not appropriate for those suffering from some injuries and illnesses. If in doubt, check with the zorbing centre before booking. Height, age and weight restrictions also apply for some types of globe-riding. Zorbing is classified as an extreme sport and, as such, is not for the feint hearted. Those whose idea of a dream day out is a quiet walk through the woods might want to give zorbing a miss. That being said, non-harnessed zorbing is often described as being the less extreme of the two types, as riders do not roll head over heels. As such, it is a good option for those who have little or no experience of extreme sports. Those who are new to sphering and somewhat apprehensive should therefore think about begin with non-harnessed or hydro-zorbing.
Experiences of zorbing vary between individuals. Whilst a number riders report feelings of terror or intense exhilaration, many look to zorbing as a guaranteed good time and are drawn to the sport again and again for the comic sensations and escapism it can afford. Unusual and extreme, zorbing should definitely be considered by all those looking for alternative recreation in the countryside.
You might also like...