Touring, Downhilling and Cross Country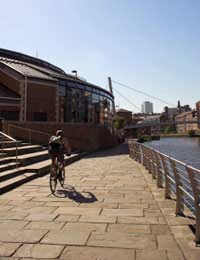 To most people, the bike is rather simple. Two wheels, a seat, a pair of pedals, a set of handlebars and perhaps some gears. Biking enthusiasts, however, know that this is far from the case. Bikes come in all sorts of different guises and have a plethora of uses. Downhilling, touring and cross country are just three examples.
What Does Downhilling Involve?
Gravity is the downhill bikers best friend. A highly competitive event, downhilling takes place on mountain bikes. Steep, downhill terrain is used in the sport. As a result, bikes reach extremely high speeds and both rider and bike often spend a staggering amount of time in the air after contact with a jump or similar obstacle. Riders complete time trials around a set course against the clock. Riders will generally begin at intervals of half a minute, beginning with the slowest and concluding with the fastest seeded rider. Courses commonly take between two and five minutes to finish. Riders are then ranked according to their race times. The time difference between the rider who gains first place and that which takes second can sometimes be as little as a fraction of a second. A full-face helmet and body armour are a must for the downhill racer. The UK boasts the 2009 Down Hill World Champion, Steve Peat so where better to take up this thrilling sport than in the UK?
What Is Bike Touring?
Touring is arguably a little more sedate than downhilling. That being said, it does demand impressive endurance levels. Riders cover long distances, opting for enjoyment and endurance as opposed to speed. Riders might take a day trip and stop along the way for food and supplies. Alternatively, they might tour for multiple days, carrying with them all the food, clothing and equipment they require on the journey. Some tourists travel for months, years or even decades. Many riders tour alone but touring in groups is common too. Distances vary, but riders generally cover between thirty and ninety miles each day, dependent upon their levels of fitness. Essentially, the touring bike is a hybrid of the racing bike and the trekking bike, combining some of the features of each. Touring can be a perfect way to see the countryside. Many tourists set themselves rural-based challenges, such as to cycle through all the counties of England or ride from Land's End to John O' Groats.
Introducing Cross Country Biking
The most common form of mountain biking, cross country cycling is incredibly popular. In common with touring, endurance is the focus of cross country biking. Races can last anytime between half an hour and twenty four hours. Races usually feature a mass start, unlike downhill races. Usually, riders are released in staggered groups although, from time to time, races may begin with all racers running to their bikes. Cross country makes the most of rugged terrain and the relief of the land and commonly takes place on surfaces such as the rough forest floor.
The complexity of the bike world may be overwhelming for some but gaining insider, expert knowledge is part of the fun. Specialising in one or two types of riding can be hugely rewarding. Before committing to one sport, it is worth getting to grips with the activity and the equipment, hiring a bike and having a go.
You might also like...