Choosing The Right Clothes & Equipment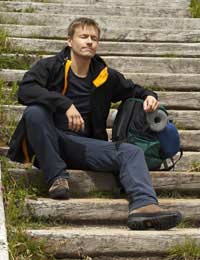 When you take up any activity it's always tempting to splash out on brand new clothes and equipment, but there's no need for fancy kit when you start rambling. As long as you don't skimp on quality, most mid-range items should be more than adequate.
Layered Clothing
Dressing in layers means that you can easily adjust to changing temperatures and conditions by adding or removing clothes.
The base layer needs to be comfortable to wear, as this is the layer that sits directly against your skin. Wool, silk, polypropylene and treated polyester are all good options, but avoid cotton, as it takes too long to dry.
The mid layer can be worn instead of a base layer in mild conditions. A windproof jacket with fleece lining is one of the best options, or a fleece jacket topped with a windproof jacket. Many windproof tops are also waterproof, so you might want to forgo the waterproof outer shell layer unless you find yourself in a torrential downpour.
The outer shell layer should be both waterproof and 'breathable'. This means that it needs to stop water getting into the lower layers, whilst also allowing moisture to escape from your body. Ventilation is important here, so look out for jackets with wide sleeve cuffs and chest pockets with mesh linings. Choose a jacket that has a good hood that fits well over your head and can accommodate a hat.
Adjusting your clothes to suit the conditions that you'll be encountering is vital. What works in the summer is obviously not the best option in the winter, and vice versa.
If you feel cold, add a hat, as most body heat escapes from the top of your head.Your hands and feet will benefit from the layering system too. A thin inner glove topped by a thicker layer made from fleece or wool will keep out the cold, and if it's wet, a waterproof top layer is also recommended. Have a spare pair of gloves in case one pair gets too wet.
Footwear
Choose a pair of light shoes or boots that fit well. Heavy footwear is only necessary if you're planning to ramble in snowy conditions.
Good tread and cushioned insoles are extras to look out for. Removable insoles often move around in your shoes, but opting for a thicker and stiffer insole makes this less likely to cause irritation and blisters on a long ramble.
Socks
Socks are almost as important as footwear. Merino wool is the best kind, and makes walking a lot more comfortable. If you choose pure wool, make sure that they have synthetic material on the heels and toes, as it doesn't last very long. Many ramblers find that wearing a pair of thin cycling socks underneath thicker walking socks avoids blisters and other discomfort caused by socks rubbing against your feet. Waterproof socks are a good idea in case it rains en route, but they don't need to be worn all the time.
Rucksacks
When it comes to packing, less is always more. Your rucksack needs to be large enough to carry all of your essentials, but at the same time, it needs to be light enough to travel potentially long distances. As a general rule of thumb, don't choose one that is over 10% of your total weight, as this will obviously weigh you down even further.
If you're going on a long distance ramble, you don't need any significantly different clothes or equipment (unless you're planning to spend the night outdoors), but you do need to be very aware of how much your gear weighs. The best rucksacks distribute a lot of the weight over your hips - as well as your back - so a hip belt and some back padding is necessary.
Rucksacks tend not to have waterproof, so you might want to line it with a plastic bag for when it inevitably rains.
Tents
It's important to test out your tent before buying it. It needs to be light enough to transport, but large enough to accommodate you and your gear. The single hoop varieties are probably the best bet, but they tend to be designed for just one person.
Other Equipment
Other invaluable items include a torch, first aid kit, map, compass and survival kit (containing chocolate, glucose tablets and energy drinks). If you're camping overnight, a sleeping bag, insulating mat, stove (gas is light and easy to use, as long as the weather isn't too harsh) and pans will also be needed.
It's easy to be overwhelmed by the amount of clothes and equipment available for ramblers, but most of this only applies to long hikes lasting for more than a day. As most ramblers only spend a half or full day trekking, the basic items needed are a map, compass, first aid kit, survival kit and spare clothes.
RURAL SPORTS IS FOR SALE.
This website is for sale [more info].
You might also like...