Base Jumping and Coasteering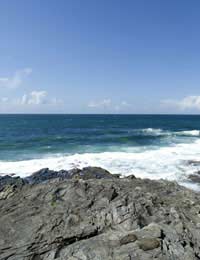 Rural or coastal sports don't get much more extreme than base jumping or coasteering. Both sports require nerves of steel but can prove hugely rewarding. Those who value interacting with both the elements and natural terrain should consider giving one of these a try. Whether as a once in a lifetime experience or a new life-long hobby, base jumping and coasteering are worth experimenting with.
What is Coasteering?
Coasteering is, essentially, the practice of travelling around a rocky coastline without the help of a boat or surf board. The coastline is navigated either on foot, or by swimming. Swimming can be a large part of coasteering and, as a result, practitioners will dress for the sea. Climbing and scrambling are also common to coasteering. Practitioners will climb above deep water, without the aid of ropes, rendering the sport exhilarating and giving it its 'extreme' status. Jumping and diving are slightly less integral aspects of the coasteering experience but these heady activities are often what draw people to the sport. The epicentre of the coasteering trip is the 'impact zone', an area where caves, waves and rocks come together and offer up a particularly challenging environment which demands high levels of concentration and physical exertion. Organised guided coasteering is the best way to start and is offered at over 100 activity centres across the UK. Some trips also focus heavily on coastal ecology, which can prove perfect for lovers of rural environments. In terms of safety, a helmet, wet suit and buoyancy aid should be worn and the group leader should carry a communication device. A good activity centre will always give members of public a thorough safety briefing before they enter the water.
What is Base Jumping?
Inspired by skydiving, base jumping, also termed B.A.S.E. jumping or BASE jumping, involves a sportsperson using an initially packed parachute to jump from immobile terrains. Base jumping features heavily in action movies and has extreme, 007 connotations. Each letter of the acronym B.A.S.E. stands for a different sort of terrain; buildings, antennas, spans and earth. Once a base jumper has completed a jump from all four terrains, they are able to apply for a 'BASE number'. These are handed out in succession and can prove a real incentive for fans of the sport. Whilst the first three terrains can be jumped in an urban environment, base jumping is particularly popular in rural coastal areas where practitioners jump from cliffs. In this way, it can be considered similar to coasteering. Base jumping has a relatively high fatality rate and is an example of an extreme sport that has failed to filter into the mainstream. Despite this, fans of extreme rural and coastal sports may be keen to give it a go. Indeed, they may feel particularly drawn by the allure of seeing areas of the world from entirely new angles and perspectives.
Both coasteering and base jumping allow practitioners to glimpse areas of the rural landscape that would normally remain unseen. These are serious extreme sports that should not be approached unprepared but can be extremely rewarding. Both base jumping and coasteering challenge the practitioner physically, mentally and emotionally.
You might also like...